Venue
Start Date

Live Streaming

10/4/2023

Live Streaming

10/16/2023

Live Streaming

10/19/2023*

Live Streaming

11/1/2023

Live Streaming

11/14/2023

Live Streaming

12/6/2023

Live Streaming

12/11/2023

In Person

Maintain your Certification!

HR Managers earn median pay of over $113,000/year. Is your pay below the median? Many employers prefer to hire certified candidates, and some positions require certification-- especially the higher-paid HR positions.

(To see where we get our numbers for HR pay, growth rates, and importance of certification, see Bureau of Labor Statistics website)

The following on-demand training courses are available to registrants at no additional cost. Successful completion of these courses will earn an additional eight hours of PHR/SPHR recertification credits for EACH course. A total of 32 additional credits!

ADA Training & Certification Program
COBRA Training and Certification Program
FMLA Training & Certification Program
Paycheck Fundamentals Training & Certification Program

Click here for additional information!


How To Earn Your Certifications

Your "HR Generalist Certificate"

Upon completion of this three day seminar, you will be awarded with an "HR Generalist Certificate"! This certificate will become a permanent addition to your professional resume, and greatly enhance your value to your organization

Your "Certified Administrator" Designation

Simply complete any of the Training &Certification Programs included with this course, then pass the exam and recieve your certificate

PHR / SPHR Re-Certification Credits!

This program has been approved for 18 re-certification credit hours through the HR Certification Institute.

For more information about certification or recertification, please visit the HR Certification Institute website at www.hrci.org. The use of this seal is not an endorsement by HRCI of the quality of the program. It means that this program has met HRCI's criteria to be pre-approved for recertification credit.

SHRM PDCs

This program is valid for 18 PDCs for the SHRM-CP or SHRM-SCP. For more information about certification or recertification, please visit www.shrmcertification.org.

Substitions, Transfers, Cancellations, Refunds

Substitutions, transfers, or cancellations can be made at any time prior to the start of a seminar by contacting our office at 201-871-0474 with the new and replaced person(s) contact information.

Some quick rules: You can receive a full refund if you cancel 30 days or more from the start date of your scheduled seminar, but if you are cancelling your attendance between 14-29 days from the start of the seminar, you will receive a refund minus a 30% fee (we've already had to guarantee and pay the hotel for a specific head count, hence the fee). Your registration fee is non-refundable for cancellations made less than two weeks prior to the event; however, you may send a substitute in your place for no additional fee. Those who do not cancel and do not attend are responsible for the full registration fee.

Cancellation fees can be waived at the Company's discretion if, instead of cancelling, you transfer your registration to another course or date. The waiver of fees is subject to head count at the event and the timing of your request. In other words, if we've already pre-paid the hotel and your request costs the Company money, then a cancellation fee will apply. We reserve the right to charge a return fee, especially in cases where you "change your mind" or drop out of a seminar, as we incur costs, including hotel fees and credit card fees to charge and refund your purchase, but if your request can be accommodated without it affecting costs, then no fee will be applied.. Either way, call our office at 201 871 0474 with your situation.

If the Company cancels an event, you can receive a full refund OR a credit to be used for another of our training courses. For instance, we could simply transfer your registration to the same event held in a different city, or to the same event held in the same city but at a later time. Last, the Company is not responsible for any costs or penalties resulting from use of discount or airfares for any ongoing or cancelled events.

If you have any questions, or just wish to discuss your registration, please give us a call a 201 871 0474

---
Comprehensive, 3-day Training Program
For HR Generalists
Click Here for Registration

(Regular Rate $2395. Register 30 days in advance for Early Bird Rate $2195)

*

Courses run on three consecutive days including the start date, Except: starred course commencement dates run three consecutive weeks on same day as commencement date (e.g., three consecutive Tuesdays). All sessions are from 10:00 am - 5:00 pm Eastern. Classes are limited to 12 students, and they do sell out, so register early! And get the early bird rate of $2195. Use Promo Code "MONTHEARLY"

As an HR Generalist, you are expected to be an expert in every human resource function, including everything from hiring to compensation to payroll to performance management to the numerous employment laws such as the FMLA, ADA, COBRA, FLSA, IRCA, and others.

Not only do you need to have a strong knowledge base in all areas, but even more importantly, you need to be able to apply your knowledge to the daily situations that arise in your workplace.

Key Benefits Of Attending This Seminar :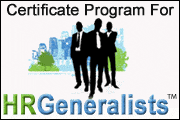 This course has been designed to provide you with practical solutions to the HR challenges you confront everyday. (Click here to see who has sent delegates to this program recently.)

You'll get the vital knowledge you need to succeed - plus the critical strategies to perfect your HR skills. By attending this three-day training program, you will:
Discover best practices and indispensable strategies for every HR function
Acquire the practical knowledge and tools you need to navigate employment law landmines
Get to practice what you learn through "real-life" case studies!
Earn an "HR Generalist Certificate" that enhances your professional growth
Earn 18 PHR / SPHR re-certification credit hours!
Earn 18 SHRM-CPSM/SHRM-SCPSM Re-Certification Credits!
You also receive access to our Training Certification Programs for FMLA, ADA, COBRA, HIPPA and the FLSA! Retailing for $399 each - but included as part of your seminar enrollment fee - these award-winning training courses teach you how to comply with these laws, and include numerous administrative tips and procedural recommendations for keeping your organization in compliance.

With these programs, you also receive FREE updates whenever the law changes, plus the ability to earn a "Certified Administrator" designation, which provides more value for you and your organization!
---
DAY 1
The Human Resource Profession: Evolution From Personnel Management To Strategic Business Partner
Exploring the HR profession and its accelerating growth
Identifying the current challenges in the HR profession and strategies for overcoming the challenges
Understanding HR's role within the organization
Identifying "where to start" if new to the HR profession
Creating a strategically-aligned HR department to drive organizational results
Strengthening your relationship as a business partner and compliance expert
Leveraging HR technology to create efficiencies, eliminate time-consuming manual processes, and improve HR's effectiveness
How to add maximum value
Interactive Exercise:
How to Influence the boss—and keep the organization out of trouble
Employee Relations: The Framework For A High-Performing Organization
The basic principles for providing a high-performing organization with a robust culture
Benefits of creating a well-written employee handbook with clear policies
Understanding generational and cultural diversity and U.S. demographic shifts
Determining the root causes of your employee complaints
Learning how to handle employee relations' issues - and how to diplomatically "push back" on issues that other leaders need to own
Learning the techniques to encourage employees to manage their peer and supervisory relationships
Understanding how HR's involvement could tread on other's turf, creating conflict
Identifying strategies to coach, mentor, and develop supervisors and managers to facilitate more positive employee relations
Labor & Employment Law: Understanding Your Compliance Requirements
Learning the "Alphabet Soup" of Compliance: Title VII of CRA, EPA, LFPA, ADEA, OWBPA, ERISA, PDA, ADAAA, IRCA, HIPAA, COBRA, ACA, USERRA, FMLA, FLSA, DFWA, FCRA, OSHA, ECPA
In-depth review of Title VII of the Civil Rights Act and anti-discrimination and harassment laws and religious accommodations
Understanding the National Labor Relations Act and collective bargaining
Understanding employer obligations regarding when to conduct workplace investigations
Interactive Exercise:
Various exercises on materials learned in this section
The National Labor Relations Act (NLRA)
Understanding your compliance obligations under the NLRA
Learning the union organizing process from Excelsior List to Secret Ballot
Determining what type of employee behavior is—and is not protected
Understanding how to handle disciplinary proceedings when union employees request representation
Developing avoidance strategies and what to do if you spot unionizing activities
Common Law Basics
Retaliation: Review of Supreme Court case that has redefined retaliation—and how to avoid retaliation claims
Negligence: How to avoid claims of negligent hiring, supervision, retention, and investigation
Defamation and Privacy: How to handle electronic communications and employee use—and abuse—of social media
Understanding today's "must-have" company policies to minimize the risk of litigation
DAY 2
The Americans With Disabilities Act (ADA) And ADA Amendments Act
Understanding the definition of a qualified disability under the ADAAA
Understanding your compliance obligations and how to avoid legal land mines
Learning how to create ADA-compliant job descriptions to minimize the risk of discrimination claims
Dealing with the balancing act of providing reasonable accommodations while also managing the business
Handling "sticky issues" such as declining employee performance, absenteeism, and unreasonable requests
Interactive Exercise: The Family & Medical Leave Act (FMLA)
Understanding your compliance obligations under the FMLA
Learning how to handle personal time off (PTO), vacation, sick pay, and workers' compensation
Learning the basics of documentation
Dealing with the challenges and headaches of FMLA documentation
Implementing strategies to control and investigate FML abuse
The Fair Labor Standards Act (FLSA)
Understanding your compliance obligations under the FLSA
Learning the top five mistakes employers make regarding wage and hour issues
Learning the process for worker classification: Exempt or Non-Exempt?
Understanding the legal risks in misclassifying workers—and what to do if you have misclassified a worker
Understanding how to avoid non-exempt overtime calculation mistakes
Interactive Exercise: Talent Acquisition Compliance
Minimizing the risk of negligent hiring—conducting thorough background checks
Understanding the do's and don'ts of applicant screening to avoid FCRA violations
How to handle applicants who have been arrested or have a criminal conviction
Understanding your compliance obligations under the Immigration Reform & Control Act (IRCA)
Learning how to accurately complete an I-9 document to determine worker identity and eligibility
Identifying why I-9's really are a "big deal" and must be done correctly
Understanding I-9 Retention Requirements
Understanding I-9 and General HR Recordkeeping
Interactive Exercise:
How to avoid common I-9 mistakes
DAY 3
Best Practices In Talent Acquisition: How To Get The Best Talent
Understanding Job Design and why a poor design = bad hires
Understanding where to find top talent and passive job seekers
Using an Applicant Tracking System (ATS) to improve efficiency and effectiveness
Implementing screening processes that accelerates the hiring process and minimizes the loss of top applicants
Learning the most effective interview processes to hire the right talent for the right positions
Understanding how to work with search firms and staffing agencies
Ensuring the interview questions you ask are not creating legal liability
Orientation And On-Boarding: Your Strategy For Retaining Talent And Creating Top Performers
Understanding why most orientation programs are ineffective in retaining talent
Learning how to create a strategic orientation program that drives results and an ROI for the organization
Setting performance expectations—from Day 1—and introducing new hires to performance measurements
Learning how to create a sense of affiliation and reduce new hire anxiety
Contemporary strategies for employee on-boarding – knowing how and when to leverage technology in the process
Learning how to involve leadership in the on-boarding process—and why HR should not own the entire process
Compensation / Total Rewards: Developing Pay Practices That Attract And Retain Top Talent
Understanding the Total Rewards model
Understanding contemporary strategies in designing compensation systems
Learning why variable compensation is growing in popularity
Understanding how to implement "checks and balances" with variable compensation plans
Identifying issues such as salary compression and how to handle pay inequity issues
Learning total rewards strategies – Work-life programs, employee development, performance management, and creating career opportunities
Performance Management: It's A Lot More Than "Check The Box" On Annual Reviews
Learning contemporary strategies that are revolutionizing the performance review process
Understanding what's working - and not working - in performance management
Understanding behavioral competencies, behavioral anchors, and why calibration is critical
How to get leaders involved in the process and buy-in that managing performance really is their job
Handling performance management challenges such as sugar-coating and "no one's perfect"
Learning how to conduct an alignment meeting with leaders to ensure fairness and consistency
Beyond reviews: understanding the action steps to effectively manage employee performance
Interactive Exercise:
Transforming Performance Management
Program Wrap-Up: Developing your HR Career
Determine current level of career satisfaction using the career continuum tool
Understanding your current role and what it will take for you to be more strategic
How to effectively plan your HR career and how to leverage your resources
Beyond the Program: Creating a personal and professional action plan to get you from here to there
4:00 PM: Program Concludes

Program Wrap-Up

Action Steps Beyond The Program

INCLUDED TRAINING MATERIALS
---
As a seminar participant, you receive access to our FMLA, ADA, COBRA, HIPAA, and FLSA Training & Certification Programs.

For a detailed agenda, click here. Designed for those who need to supervise or perform the actual administration and compliance requirements of these federally mandated laws, these online courses provide detailed specifics - including numerous examples, administrative tips, and procedural recommendations - for administering the often-complex requirements.

And with these courses, you also receive FREE updates whenever the laws change, plus the ability to earn a "Certified Administrator" designation in each area of study!

Program Benefits
Award-winning, easy-to-use interface that includes numerous Administrative Tips, Procedural Recommendations, and Interactive Quizzes (complete with answer rationale) to help ensure learning
FREE updates when the law changes*
Online access allows you to study at your pace and access materials anytime, anywhere with an internet connection
Special Bookmark feature that allows you to learn at your own pace and quickly return to training if you are interrupted
EIGHT hours of PHR/SPHR re-certification credits per course!
Included with each Training & Certification Program - though not required – is the test to earn your "Certified Administrator" designation. Your test is taken online and scored immediately. Upon successful completion, your certificate is mailed directly to you! We also show you any incorrectly answered test questions so you can improve any area of weakness!
Session Times:
In Person Sessions: 8am - 4pm local time
Live Streaming Sessions: 10:00am - 5pm Eastern Time
Testimonials
Here are just some of what people are saying about this course:
...I learned more at this conference than any other I have attended

...I walked away retaining the information given and came back to my company and implemented so many of the things I learned

...I would highly recommend this course for any HR Generalist who is either just starting in their HR career or even for those generalists who just want to make sure that they are knowledgeable in all aspects of their position. Definitely worth the time!

...Your trainer (Bridget) was wonderful! She was very knowledgeable and approachable. I would highly recommend this program.

...Great class - my head is still spinning with all the great info.

...The presenter (Kara) was awesome. She made the training easy to understand; provided lots of examples which were very helpful; and definitely made it very comfortable for all participants to provide input and ask questions. It is one of the best trainings I have gone to. Thank you!

...Elga was so down with all of her knowledge and the stories she told made it easier to relate to what she was teaching us. I was able to obtain a lot of information by her teaching skills. Very satisfied! Thank you!

...The training was unbelievably helpful, and I think it had everything to do with the material and the Presenter's knowledge about the topic

...I enjoyed the interactive activities, especially where we got to share and listen to what works and doesn't work at our various jobs and companies.

...I would highly recommend this seminar to anyone in the HR profession. Whether you are an HR Generalist or Supervisor, just starting out in your HR career or a seasoned professional, this course contains a wealth of information that anyone can benefit from.

...Absolutely enjoyed it! Natalie - the trainer - was awesome!

...The trainer made sure to integrate our learning with real examples and real cases.

...I enjoyed the class size, as we were able to have multiple productive conversations throughout the classes.

...I liked the interactive classroom time...it created group conversation that lead to other questions and answers.

...Ms. Mary White was an excellent facilitator, and I have already recommended the course to other colleagues.

...Can't say enough positive things about Natalie. She was just fabulous!

...It was truly a great course!

...Mary White was great! She was extremely knowledgeable and a wonderful instructor. I would definitely recommend her class to others.

...The training/trainer was great. I also liked that we had a small group so networking was fun. Hearing about different backgrounds and scopes of work for others was helpful and we were able to apply our experiences to the training material, so that really helped.

...This was a great experience. I am looking forward to more training from your company.

...Natalie's experience and real-world examples were very helpful in understanding how to handle various situations.

...Excellent seminar...plus I have already accessed one of the online courses included with this seminar and found it to be excellent as well.

...Kelly Day was an awesome instructor. Very pleasant and made the course interesting and informative.
NewswatchMedia.com, 1530 Palisade Ave #20A Fort Lee NJ 07024