City/State
Date
<

Houston, TX

2/20/2020

Daytona Beach FL

2/27/2020

NYC, NY

4/13/2020

Nashville, TN

6/11/2020

NYC, NY

10/19/2020
Courses will run from 8:00 am until 4:00 PM each day

Questions? Prefer to Register by Phone? Call 201 871 0474


---

HRcertification.com offers seminars and online training programs to help you better understand and administer the regulations and compliance requirements for COBRA HIPAA, FMLA, ADA, Payroll, Retirement Plans, Cafeteria Plans, and other federally-mandated compliance areas.

We also offer courses on conducting Internal Investigations, Performance Management, and Recruiting & Hiring, as well as specialty courses for HR Generalists.

Used by almost every major company and TPA in the country, each of our programs includes numerous tips, examples, recommended procedures, realistic scenarios, and interactive quizzes - all designed to help ensure you are learning. 

Our programs also allow you to earn either a valuable "Certified Administrator" designation (for our online programs) or a Skills Certificate (for our in-person seminar attendees)! We also offer a "Certified TPA" Program for Third Party Administrators!

FYI, our seminars and online programs typically qualify for eight or more hours of PHR and SPHR re-certification credits.
Strategic HR Leadership Certificate Program
Click Here to Register ($1495)
Special. Register at least one month before a session begins and save $100. Just enter MONTHEARLY as your promo code, or mention it when calling in.

This workshop is designed for experienced HR professionals who seek to advance in their careers and/or take on a more strategic approach in their organization. By attending, you will look at how you currently view your role in the organization, and how your duties, responsibilities, and outlook will change by learning key solutions, best practices, and strategic problem solving skills for improving your organization's bottom line.

About The Class:

To be an effective HR Leader, you need a strategic perspective and specific skills that go beyond the legal and compliance expertise required to succeed in an HR Generalist or Business Partner role.

This means you must be able to influence organizational change and connect HR to the bottom line. Establishing yourself as an HR Leader – and preparing for a strategic leadership role and the responsibilities that go along with it – requires additional training and expertise.

Our "Strategic HR Leadership Workshop" prepares HR professionals to excel as leaders in organizations of all sizes because it provides the vital knowledge and outlook needed to become a strategic leader – not just within the HR function – but for the overall organization.

By utilizing lecture, Interactive Exercises, and years of practical experience, our trainer


Key Benefits Of Attending: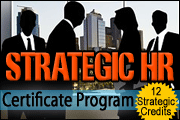 This intensive, two-day workshop includes ten information-packed sessions - plus Interactive Exercises - covering everything you need to excel as a Strategic HR Leader.

By attending, you will learn how to plan and execute against key leadership ideas and issues, as well as how to cultivate your leadership presence. Specifically, you will learn:
Leadership best practices required for strategic success at both an individual, functional, and organizational level

Steps for developing the "big picture" perspective necessary for effective strategic leadership

How to transition from having an HR-specific focus to a strategic leadership role

Ways to improve your understanding of your industry, the operations of your organization, and the environment in which it does business

How to apply a strategic perspective to HR functions, including how to expand your perspective from guiding the HR function to encompassing the day-to-day realities of aligning HR goals, strategies, and tactics with your organization's overall strategic goals

Key ethical behavioral and decision-making components of strategic leadership

Critical communication skills required for effective HR leadership

How to participate meaningfully and constructively in the strategic planning process

Critical strategies necessary to position yourself to be viewed as an influential leader within your organization and industry

How to develop - and communicate - your strategic plans

Keys to working with other leaders to create, maintain, expand, and champion your organization's mission, vision, and values

Ways to leverage buy-in and support by finding concrete, data-driven solutions to take HR to the bottom line

How to be a champion of the organization's strategic goals within your functional area of expertise and to the larger organization

How to handle political pushback

Ways to reinforce your strategic value as you grow in your role as an HR leader
---
AGENDA
---
DAY ONE
Moving From Functional HR To Strategic Leadership
Traditional HR Perspective

Strategy Defined

Key Components Of Strategic Leadership

Leadership Versus Management

Benefits Of Effective Leadership

Leadership Traits And Barriers

Key Components Of Effective Leadership
Planning
Strategic Planning Defined

Steps To Strategic Planning

Aligning HR With The Strategic Plan

Selecting Tactics Based On Strategic Focus Area(s)

Supporting The Organization
Problem-Solving
Strategic Problem Solving

Strategic Focus

Problem-Solving Model
Interactive Exercise:
Understanding Your Organization
Understanding Your Organization

Expanding Your Expertise

Aligning And Focus HR Efforts

Developing Partnerships

Making A Case For Action

Taking Ownership

PEST Factors

VUCA Environment
Cultivating Influence
Key Traits Of Influence

Influence vs Leadership

Understanding Influence Versus Authority 

Cultivating Influence: Key Components
Interactive Exercise:
Key Characteristics of Influential People
Ethical Considerations
Ethics And Business

Ethics And Strategy

Organizational Values

Corporate Social Responsibility

Factors That Influence Ethical Choices

Corporate Culture And Ethics

Setting The Stage For An Ethical Culture

Tieing The HR Function To Values/Ethics
Day 2
Working With Other Departments
Your Industry And External Environment

Internal Company Environment

Department Functionality

Key Business Functions

Life Cycle Of An Organization
Interactive Exercise:
Connecting HR To Key Business Functions Of Other Departments
Communication
Senior Leadership Communication Considerations

Tips For Communicating With Senior Leadership
Interactive Exercise:
Framing An Executive Conversation
Current Trends
The Agile Model

Principles Of Agility

Agility Mindset

Applying Agile To HR Strategy

Agile Scrum Board

Balanced Scorecard
Implementation
Aligning And Integrating HR To Business Strategy

HR Investment

Ways HR Can Impact The Bottom Line

Beyond Measurement
Interactive Exercises:
Taking HR To The Bottom Line

Applying HR Policies To Business Strategy

Applying HR Practices To Business Strategy

Learning From Key Metrics
Program Wrap-Up
---
INCLUDED MATERIALS
---
A "Certificate In Strategic HR Leadership"

Upon completion of this seminar, you will be awarded with a "Certificate in Strategic HR Leadership". This certificate will become a permanent addition to your professional resume, and greatly enhance your value to your organization.


PHR / SPHR Re-Certification Credits! 

This program is approved for 12 "Specified Business/Strategic" re-certification credit hours through the HR Certification Institute.  An additional three credits may be earned by taking the included On-Demand webinars.

SHRM-CPSM/SHRM-SCPSM Re-Certification Credits! 
HRTrainingCenter.com is recognized by SHRM to offer Professional Development Credits (PDCs) for the SHRM-CPSM or SHRM-SCPSM. This program is valid for 12 PDCs for the SHRM-CPSM or SHRM-SCPSM. For more information about certification or recertification, please visit www.shrmcertification.org
NewswatchMedia.com, POB 2303, Falls Church VA 22042
For our privacy policy, please go to http://www.pmaconference.com/privacy.html