FMLA & ADA Compliance Certificate Program
Sitting at Home Bored? We're offering FMLA & ADA Compliance by Live Streaming at the Early Bird Price of $1995!
This comprehensive, three-day program includes 15 information-packed sessions that provide complete A-to-Z coverage of all aspects of FMLA and ADA compliance and best practices - plus access to our heralded FMLA and ADA Training Certification Programs!
Special!. Register one month early and save $200. Enter (or mention) Promo Code MONTHEARLY. Prefer to register by phone? Call 201 871 0474
Not only will you learn the practical strategies and procedural recommendations that will enable you to tackle the challenging FMLA and ADA issues you confront every day, you'll also get FREE updates whenever FMLA or ADA laws change!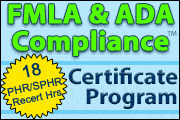 This comprehensive three-day event provides you with all the tools and practical knowledge you need to effectively manage your FMLA and ADA compliance responsibilities, including tips on:
Determining what constitutes a "disability" under ADA
Navigating the perplexing reasonable accommodation discussion
Determining reasonable accommodations and undue hardships
Employer coverage and employee eligibility under the FMLA
Obtaining proper medical certifications to ensure employee entitlement to leave
Managing intermittent and reduced-schedule leave
Reducing the risk of litigation with employees on leave
Minimizing absenteeism and productivity challenges
GINA's prohibition on acquiring genetic information, and it's mandatory notice and recordkeeping requirements
You also earn 18 PHR / SPHR re-certification credit hours

HRTrainingCenter.com is recognized by SHRM to offer Professional Development Credits (PDCs) for the SHRM-CPSM or SHRM-SCPSM. This program is valid for 18 PDCs for the SHRM-CPSM or SHRM-SCPSM. For more information about certification or recertification, please visit www.shrmcertification.org.


---
DAY 1
The Americans with Disabilities Act
Key terms and definitions
The laws protecting disabled individuals from discrimination
Who is covered and why
Employment practices that are prohibited by the ADA
Employer posting requirements
Identifying Essential Job Functions And Qualified Individuals
Reasonable Accommodations
Job restructuring or additional training
Medical exams
Confidentiality of medical information
Confidentiality in accommodations
Responding when an individual refuses an offered accommodation
Modifications
Light or modified duty
Collective Bargaining Agreements
Interactive Exercises:
Determining what is a substantial limitation to a major life activity
Analyzing reasonable accommodation requests
Deciding when to make medical inquiries
DAY 2
The Family And Medical Leave Act
Key terms and definitions
Who is covered and why
Employee Eligibility And Leave Entitlement
Paid and unpaid leave options
Intermittent and reduced-schedule leaves
Special rules for school employees
Employer posting requirements
Notifications
Communicating with employees who are out of work
Medical Certifications
Fitness-for-duty testing
Return-to-work options
FMLA job and benefits restoration
Tracking leave
Ending Leave
Recovering benefits costs incurred during FMLA leave
RIFs involving protected employees
Documentation strategies that protect your organization
Interactive Exercises:
Various case studies on eligibility and administrative requirements
DAY 3

ADA and FMLA Best Practices, Plus Compliance With Other Leave Laws
Day three covers some of the tips and methods for managing the integration of leave laws, including:
GINA compliance
Workers' Compensation
State family leave and paid family leave laws
State laws for jury duty, voting, bereavement, school activities, vacation, and more
Pregnancy leave and accommodation
Military leave
Paid sick leave laws
Distinguishing between an FMLA "serious health condition" and an ADA "disability"
Managing the interplay between leave requirements under the ADA and FMLA
Handling Workers' Comp claims that have ADA and FMLA ramifications
When you can run leave times concurrently under FMLA and workers' comp?
Coordinating case management
Options for refilling positions while an employee is out
Strategies for reducing absenteeism and impacts to productivity
Interactive Exercises:
Various case studies on overlapping leave and disability law dilemmas
Program Wrap-Up
Key Points Review
Action Steps Beyond The Program
---
INCLUDED TRAINING MATERIALS
---

In addition to the great instructor-led training, you also receive access to our FMLA and ADA Training & Certification Programs.

Designed for those who need to supervise or perform the actual administration and compliance requirements of these federally mandated laws, these online courses provide detailed specifics - including numerous examples, administrative tips, and procedural recommendations - for administering the often-complex requirements.

And with these courses, you also receive FREE updates whenever the laws change, plus the ability to earn a "Certified Administrator" designation in each area of study!

Program Benefits
Award-winning, easy-to-use interface that includes numerous Administrative Tips, Procedural Recommendations, and Interactive Quizzes (complete with answer rationale) to help ensure learning
FREE updates when the law changes*
Online access allows you to study at your pace and access materials anytime, anywhere with an internet connection
Special Bookmark feature that allows you to learn at your own pace and quickly return to training if you are interrupted
Eight hours of PHR/SPHR re-certification credits and SHRM PDCs per course!
Included with each Training & Certification Program - though not required – is the test to earn your "Certified Administrator" designation. Your test is taken online and scored immediately. Upon successful completion, your certificate is mailed directly to you! We also show you any incorrectly answered test questions so you can improve any area of weakness!
Substitions, Transfers, Cancellations, Refunds
Substitutions, transfers, or cancellations can be made at any time prior to the start of a seminar by contacting our office at 201-871-0474 with the new and replaced person(s) contact information.

Some quick rules: You can receive a full refund if you cancel 30 days or more from the start date of your scheduled seminar, but if you are cancelling your attendance between 14-29 days from the start of the seminar, you will receive a refund minus a 30% fee (we've already had to guarantee and pay the hotel for a specific head count, hence the fee). Your registration fee is non-refundable for cancellations made less than two weeks prior to the event; however, you may send a substitute in your place for no additional fee. Those who do not cancel and do not attend are responsible for the full registration fee.

Cancellation fees can be waived at the Company's discretion if, instead of cancelling, you transfer your registration to another course or date. The waiver of fees is subject to head count at the event and the timing of your request. In other words, if we've already pre-paid the hotel and your request costs the Company money, then a cancellation fee will apply. We reserve the right to charge a return fee, especially in cases where you "change your mind" or drop out of a seminar, as we incur costs, including hotel fees and credit card fees to charge and refund your purchase, but if your request can be accommodated without it affecting costs, then no fee will be applied.. Either way, call our office at 201 871 0474 with your situation.

If the Company cancels an event, you can receive a full refund OR a credit to be used for another of our training courses. For instance, we could simply transfer your registration to the same event held in a different city, or to the same event held in the same city but at a later time. Last, the Company is not responsible for any costs or penalties resulting from use of discount or airfares for any ongoing or cancelled events.
If you have any questions, or just wish to discuss your registration, please give us a call a 201 871 0474


PMA Conference Management, POB 2303, Falls Church VA 22042
For our privacy policy, please go to http://www.pmaconference.com/privacy.html
[[59:header_X-GreenArrow-MailClass:nwm_five_one]]